Manejo complejo del hematoma intramural de aorta descendente: a propósito de un caso
Juan Manuel Torres-Restrepo

Departamento de cirugia general, Hospital Universitario Hernando Moncaleano Perdomo, Neiva Colombia. Residente de cirugia general, universidad Surcolombiana

Cristhian Felipe Ramirez Ramos

Universidad Pontificia Bolivariana, Clínica cardioVID

Hector Jimenez-Sanchez

Departamento de Cirugia general Universidad del Bosque. Cirujano general, Epidemiologo clínico, Fellow de cirugia vascular y angiologia.

Edwin Romero

Departamento de cirugia vascular periferico Hospital Universitario Hernando Moncaleano Perdomo, Neiva Colombia. Cirujano general y vascular periferico.

Mario Espinosa-Moreno

Departamento de Cirugía General, Hospital Universitario Hernando Moncaleano Perdomo, Neiva, Colombia.

Clara Saldarriaga

Departamento de cardiología clínica e insuficiencia cardiaca, universidad Pontificia Bolivariana, universidad de Antioquia y clínica CardioVID. Médica internista, cardiologa y especialista en falla cardiaca
Palabras clave:
dolor torácico, enfermedades de la aorta, hematoma, procedimientos endovasculares
Resumen
Los síndromes aórticos agudos (SAA) incluyen una variedad de enfermedades anatómicas y clínicas que se superponen. El hematoma intramural (HIM), la úlcera aórtica penetrante (UAP) y la disección aórtica ocurren de manera aislada o pueden coexistir en un mismo paciente. El HIM representa el 5-30% de todos los SAA y el 60-70% de los casos se localizan en la aorta descendente. El diagnóstico recae en un alto índice de sospecha clínica y en el empleo de imágenes complementarias. El manejo es conservador, pero los pacientes con algunas características de alto riesgo tienen mayor probabilidad de muerte en la fase aguda por lo que debe considerarse inicialmente el manejo endovascular. Se presenta el caso de un paciente de 69 años a quien se diagnosticó un HIM en el curso de una emergencia hipertensiva y que requirió manejo híbrido por las características anatómicas de alto riesgo para manejo endovascular aislado.
Descargas
La descarga de datos todavía no está disponible.
Citas
Evangelista A, Maldonado G, Moral S et al. Intramural hematoma and penetrating ulcer in the descending aorta: differences and similarities. Ann Cardiothorac Surg. 2019 Jul;8(4):456–70.
Nienaber CA, Eagle KA. Aortic dissection: new frontiers in diagnosis and management: Part I: from etiology to diagnostic strategies. Circulation. 2003 Aug 5;108(5):628–35.
Stanson AW, Kazmier FJ, Hollier LH et al. Penetrating atherosclerotic ulcers of the thoracic aorta: natural history and clinicopathologic correlations. Ann Vasc Surg. 1986 May;1(1):15–23.
Maraj R, Rerkpattanapipat P, Jacobs LE et al. Meta-analysis of 143 reported cases of aortic intramural hematoma. Am J Cardiol. 2000 Sep 15;86(6):664–8.
Nauta F, de Beaufort H, Mussa FF, et al. Management of retrograde type A IMH with acute arch tear/type B dissection. Ann Cardiothorac Surg. 2019 Sep;8(5):531–9.
Maslow A, Atalay MK, Sodha N. Intramural Hematoma. J Cardiothorac Vasc Anesth. 2018;32(3):1341–62.
Moral S, Cuéllar H, Avegliano G, et al. Clinical Implications of Focal Intimal Disruption in Patients With Type B Intramural Hematoma. J Am Coll Cardiol. 2017 Jan 3;69(1):28–39.
Choi Y-J, Son J-W, Lee S-H, et al. Treatment patterns and their outcomes of acute aortic intramural hematoma in real world: multicenter registry for aortic intramural hematoma. BMC Cardiovasc Disord. 2014 Aug 19;14:103.
Tolenaar JL, Harris KM, Upchurch GR, et al. The differences and similarities between intramural hematoma of the descending aorta and acute type B dissection. J Vasc Surg. 2013 Dec;58(6):1498–504.
Evangelista A, Mukherjee D, Mehta RH et al. Acute intramural hematoma of the aorta: a mystery in evolution. Circulation. 2005 Mar 1;111(8):1063–70.
Shapira OM, Aldea GS, Cutter SM et al. Improved clinical outcomes after operation of the proximal aorta: a 10-year experience. Ann Thorac Surg. 1999 Apr;67(4):1030–7.
Walsh SR, Tang TY, Sadat U, et al. Endovascular stenting versus open surgery for thoracic aortic disease: systematic review and meta-analysis of perioperative results. J Vasc Surg. 2008 May;47(5):1094–8.
Feezor RJ, Lee WA. Management of the left subclavian artery during TEVAR. Semin Vasc Surg. 2009 Sep;22(3):159–64.
Hajibandeh S, Hajibandeh S, Antoniou SA et al. Meta-analysis of Left Subclavian Artery Coverage With and Without Revascularization in Thoracic Endovascular Aortic Repair. J Endovasc Ther Off J Int Soc Endovasc Spec. 2016 Aug;23(4):634–41.
Conway AM, Qato K, Nguyen Tran N N et al. Management of the Left Subclavian Artery in TEVAR for Chronic Type B Aortic Dissection. Vasc Endovascular Surg. 2020 Jul 23;1538574420942353.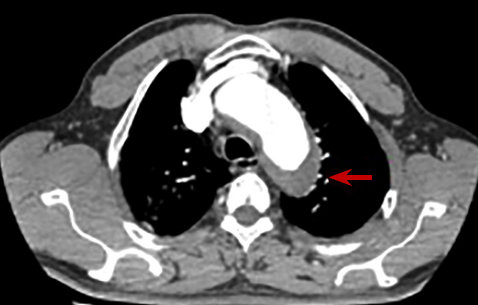 Cómo citar
1.
Torres-Restrepo JM, Ramirez Ramos CF, Jimenez-Sanchez H, Romero E, Espinosa-Moreno M, Saldarriaga C. Manejo complejo del hematoma intramural de aorta descendente: a propósito de un caso . Arch Peru Cardiol Cir Cardiovasc [Internet]. 15 de septiembre de 2020 [citado 17 de enero de 2022];1(3):188 -193. Disponible en: https://apcyccv.org.pe/index.php/apccc/article/view/75
Sección
Reportes de casos
Derechos de autor 2020 Archivos Peruanos de Cardiología y Cirugía Cardiovascular
Esta obra está bajo licencia internacional
Creative Commons Reconocimiento 4.0
.