Giant cardiac hydatid cyst causing sustained ventricular tachycardia. Successful surgical treatment
Palabras clave:
Echinococcosis, Heart, Arrhythmias, cardiac
Resumen
Cardiac involvement of hydatid disease is rare. In Peru, a country with a high prevalence of this infectious disease, few cases of cardiac hydatid disease have been reported. We present the case of a man with a cardiac hydatid cyst of more than 10 cm in diameter that debuted with malignant arrhythmia and successfully treated with surgery.
Descargas
Los datos de descargas todavía no están disponibles.
Citas
Tamarozzi F, Hou A, Morales ML, Giordani MT, Vilca F, Mozo K, et al. Prevalence and Risk Factors for Human Cystic Echinococcosis in the Cusco Region of Peruvian Highlands Diagnosed Using Focused Abdominal Ultrasound. National Library of Medicine. Am J Trop Med Hyg. 2017;96(6):1472-1477. doi: 10.4269/ajtmh.16-0882.
Jamli M, Cherif T, Ajmi N, Besbes T, Mgarrech I, Jerbi S, et al. Surgical Management and Outcomes of Cardiac and Great Vessels Echinococcosis: A 16-Year Experience. Ann Thorac Surg. 2020;110(4):1333-1338. doi: 10.1016/j.athoracsur.2020.01.065.
Kahlfuß S, Flieger R, Roepke T, Yilmaz K. Diagnosis and treatment of cardiac echinococcosis. Heart. 2016;102(17):1348-53. doi: 10.1136/heartjnl-2016-309350.
Fennira S, Kamoun S, Besbes B, Ben Mrad I, Zairi I, Ben Moussa F, et al. Cardiac hydatid cyst in the interventricular septum: A literature review. Int J Infect Dis. 2019;88:120-126. doi: 10.1016/j.ijid.2019.09.004.
Dursun M, Terzibasioglu E, Yilmaz R, Cekrezi B, Olgar S, Nisli K, et al. Cardiac hydatid disease: CT and MRI findings. AJR Am J Roentgenol. 2008;190(1):226-32. doi: 10.2214/AJR.07.2035.
Canpolat U, Yorgun H, Sunman H, Aytemir K. Cardiac hydatid cyst mimicking left ventricular aneurysm and diagnosed by magnetic resonance imaging. Turk Kardiyol Dern Ars. 2011;39(1):47-51.
Huerta-Obando AV, Olivera-Baca EY, Silva-Díaz J, Salazar-Díaz A. Quiste hidatídico intracardiaco en una niña: reporte de caso. Rev Peru Med Exp Salud Publica. 2018;35(2):338-43. doi: 10.17843/rpmesp.2018.352.3258.
Castillo De la Cadena L, Cuba Y, Mendoza C, Mispireta M, Parra J, Pacheco P. Quiste cardiaco hidatídico en un niño: Presentación de un caso. Rev Med Hered. 2012;(23):36-40.
Ramírez J, Hernández J, Orlovac A, Málaga G, Cáceres J. Equinococcosis cardiaca y obesidad mórbida. Consideraciones quirúrgicas. Acta Med Peru. 2010;(27):123-6.
Montero F, Contreras O, Barriga E, Curi Y, Cosme P, Delgado C, et al. A propósito de un caso de quiste hidatídico cardiaco. Rev Per Cardiol. 2005;31(3):180-5.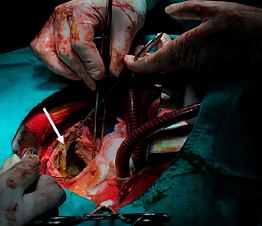 Cómo citar
1.
Callalli E, Pelaez C, Armendáriz-Ferrari JC, Gonzales S, Salas M, Niño M, Bombilla A. Giant cardiac hydatid cyst causing sustained ventricular tachycardia. Successful surgical treatment. Arch Peru Cardiol Cir Cardiovasc [nternet]. 27 de junio de 2022 [citado 9 de agosto de 2022];3(2). isponible en: https://apcyccv.org.pe/index.php/apccc/article/view/209
Sección
Reportes de casos
Licencia
Derechos de autor 2022 La revista es titular de la primera publicación, luego el autor dando crédito a la primera publicación.
Esta obra está bajo una licencia internacional Creative Commons Atribución 4.0.