Acute Stanford type A aortic dissection associated with aortic coarctation repaired by Tirone E. David & debranching techniques with combined axillar and femoral perfusion: a case report
Palabras clave:
Aneurysm, dissecting, Aortic coarctation, Aortic valve insufficiency, Aortic valve prolapse
Resumen
We present the case of a 38-year-old male with a diagnosis of Stanford A aortic dissection and associated coarctation of the thoracic aorta. Acute dissection associated with coarctation of the aorta is a rare problem and difficult to manage surgically. Establishing a cardiopulmonary bypass (CPB) with adequate flows is the main objective of the procedure; optimal cannulation ensures the protection of cerebral and visceral organs. We successfully performed aortic valve re-implantation surgery (T. David Surgery), replacement of the ascending aorta and aortic arch, as well as debranching of the supra-aortic trunks. The cannulation technique was axillary and femoral to guarantee flows through the coarctation area.
Descargas
Los datos de descargas todavía no están disponibles.
Citas
Abe T, Usui A. The cannulation strategy in surgery for acute type A dissection. Gen Thorac Cardiovasc Surg. 2017;65(1):1-9.
Horai T, Shimokawa T, Takeuchi S, Okita Y, Takanashi S. Single-Stage Surgical Repair of Type II Acute Aortic Dissection Associated With Coarctation of the Aorta. Ann Thorac Surg. 2007;83(3):1174-5.
Svensson LG. Management of acute aortic dissection associated with coarctation by a single operation. Ann Thorac Surg. 1994; 58(1):241-3.
Elsayed RS, Cohen RG, Fleischman F, Bowdish ME. Acute Type A Aortic Dissection. Cardiol Clin. 2017;35(3):331-45.
Merkle J, Sabashnikov A, Liebig L, Weber C, Eghbalzadeh K, Liakopoulos O, et al. Factors predictive for early and late mortality after surgical repair for Stanford A acute aortic dissection. Perfusion. 2019;34(5):375-83.
Jormalainen M, Raivio P, Mustonen C, Honkanen H-P, Vento A, Biancari F, et al. Direct Aortic Versus Peripheral Arterial Cannulation in Surgery for Type A Aortic Dissection. Ann Thorac Surg. 2020; 110(4): 1251-8.
Huang L, Xu Q, Chen D, Dai X, Chen L. Combined femoral and axillary perfusion strategy for Stanford type a aortic dissection repair. J Cardiothorac Surg. 2020; 15(1): 326.
Fusco DS, Shaw RK, Tranquilli M, Kopf GS, Elefteriades JA. Femoral Cannulation is Safe for Type A Dissection Repair. Ann Thorac Surg. 2004;78(4):1285-9.
Borger MA, Fedak PWM, Stephens EH, Gleason TG, Girdauskas E, Ikonomidis JS, et al. The American Association for Thoracic Surgery consensus guidelines on bicuspid aortic valve–related aortopathy: Full online-only version. J Thorac Cardiovasc Surg. 2018;156(2):e41-74.
David TE. Aortic Valve Sparing in Different Aortic Valve and Aortic Root Conditions. J Am Coll Cardiol. 2016;68(6):654-64.
Bavaria JE, Desai N, Szeto WY, Komlo C, Rhode T, Wallen T, Vallabhajosyula P. Valve-sparing root reimplantation and leaflet repair in a bicuspid aortic valve: comparison with the 3-cusp David procedure. J Thorac Cardiovasc Surg. 2015 Feb;149(2 Suppl):S22-8.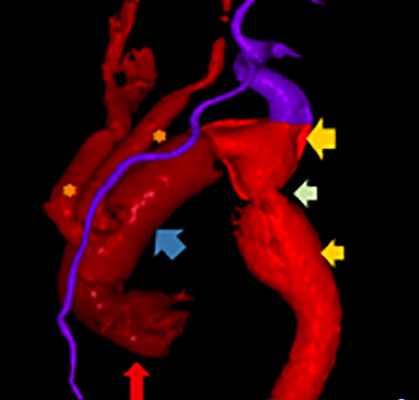 Descargas
Cómo citar
1.
Guerrero F, Bautista K, Salas G, Callalli E, Ríos JC. Acute Stanford type A aortic dissection associated with aortic coarctation repaired by Tirone E. David & debranching techniques with combined axillar and femoral perfusion: a case report. Arch Peru Cardiol Cir Cardiovasc [nternet]. 4 de octubre de 2021 [citado 30 de septiembre de 2022];2(3):211-5. isponible en: https://apcyccv.org.pe/index.php/apccc/article/view/154
Sección
Reportes de casos