Complicaciones cardiovasculares en gestante con linfoma primario mediastinal de células B
Palabras clave:
Linfoma de Células B Grandes Difuso, Gestación, Metástasis, Taquiarritmia, Bradicardia
Resumen
Gestante de 26 años con 29 semanas de edad gestacional, refirió 2 meses de tos, disnea, ortopnea y palpitaciones. La tomografía de tórax reveló una masa sólida de 10x12 cm en el pulmón derecho; la ecocardiografía mostró que la tumoración comprometía la aurícula y el ventrículo derecho; mediante biopsia transcutánea se diagnosticó linfoma primario mediastinal de células B (LPMCB). La paciente presentó flutter auricular 2:1, bradicardia sinusal y bradicardia auricular ectópica; por la rápida y mala evolución se decidió el término de la gestación por cesárea y el inicio de quimioterapia, posterior a la cual las complicaciones cardiovasculares resolvieron. El LPMCB es un linfoma muy raro que puede afectar gestantes en cualquier trimestre, sus síntomas están relacionados con su rápido crecimiento y comprometen el corazón provocando diversas manifestaciones cardiovasculares (insuficiencia cardíaca, efusión pericárdica, arritmias cardiacas). El LPMCB es característicamente quimiosensible y de buen pronóstico.
Descargas
Los datos de descargas todavía no están disponibles.
Citas
Poterucha TJ, Kochav J, O'Connor DS, Rosner GF. Cardiac Tumors: Clinical Presentation, Diagnosis, and Management. Curr Treat Options Oncol. 2019;20(8):66. doi: 10.1007/s11864-019-0662-1.
Chinen K, Izumo T. Cardiac Involvement by malignant lymphoma: a clinicopathologic study of 25 autopsy cases based on the WHO classification. Ann Hematol. 2005;84(8):498-505. doi: 10.1007/s00277-005-1009-5.
Hurley TJ, McKinnell JV, Irani MS. Hematologic Malignancies in Pregnancy. Obstet Gynecol Clin North Am. 2005;32(4):595-614. doi: 10.1016/j.ogc.2005.08.008.
Martelli M, Ferreri A, Di Rocco A, Ansuinelli M, Johnson PWM. Primary mediastinal large B-cell lymphoma. Crit Rev Oncol Hematol. 2017;113:318-327. doi: 10.1016/j.critrevonc.2017.01.009.
Buchholtz ML, Büclein V, Brendel M, Paal M. Superior vena cava syndrome related to mediastinal lymphoma in late pregnancy: A case report. Case Rep Womens Health. 2018;19:e00065. doi: 10.1016/j.crwh.2018.e00065.
Tyebally S, Chen D, Bhattacharyya S, Mughrabi A, Hussain Z, Manisty C, et al. Cardiac Tumors: JAAC CardioOncology State of the Art Review. JAAC CardioOncol. 2020;2(2):293-311. doi: 10.1016/j.jaccao.2020.05.009.
Broccoli A, Zinzani PL. The unique biology and treatment of primary mediastinal B-cell lymphoma. Best Pract Res Clin Haematol. 2018;31(3):241-250. doi: 10.1016/j.beha.2018.07.001.
Subramanyam P, Mahmood SS, Dinsfriend W, Pastore RD, Martin P, Chan AT, et al. Clinical Case Challenges: Infiltrative Lymphoma-Associated bradycardia and Cardiac Conduction Abnormalities. JAAC Cardio Oncol. 2020;2(1):135-138. doi: 10.1016/j.jaccao.2020.01.002.
Tsay J, Manjad S, Miller F. When you infiltrate, you fibrilate: Diffuse large B cell Lymphoma presenting as right atrial mass with atrial arrhythmias. JAAC. 2019;73(9):2349. doi.org/10.1016/S0735-1097(19)32955-9.
Khalid K, Faza N, Lakkis NM, Tabbaa R. Cardiac Involvement by Burkitt Lymphoma in 49-Year-Old Man. Tex Heart Ins J. 2020;47(3):210-212. doi: 10.14503/THIJ-17-6448.
Fiascone S, Datkhaeva I, Winer ES, Rizack T. Primary Mediastinal Large B-Cell Lymphoma in Pregnancy. Leuk Lymphoma. 2016;57(1):240-243. doi: 10.3109/10428194.2015.1049168.
Pentheroudakis G, Pavlidis N. Cancer and pregnancy: poema magna, not anymore. Eur J Cancer. 2006;42(2):126-140. doi: 10.1016/j.ejca.2005.10.014.
Gelb AB, Van de Rijn M, Warnke RA, Kamel OW. Pregancy-associated lymphomas. A clinicopathologic study. Cancer. 1996;78(2):304-310. doi: 10.1002/(SICI)1097-0142(19960715)78:2<304:AID-CNCR18>3.0.CO;2-#
Mangasarova IK, Bariakh EA, Vorob'ev VI, Khlavno AB, Magomedova AU, Shmakov RG, et al. [Primary mediastinal large B-cel Lymphona in pregnant women]. Terk Arkh. 2014;86(7):53-58. Russian.
Mangasarova IK, Magomedova AU, Kravchenko SK, Shmakov RG, Bariakh EA, Vorobev VI, et al. [Eight-year experience in trating aggressive mediastinal large B- cell lymphomas]. Ter Arkh. 2013;85(7):50-56. Russian.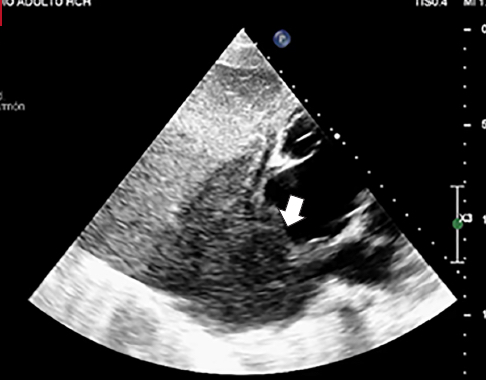 Cómo citar
1.
Inquilla Coyla M, Anchante Hernández H, Medina Palomino F. Complicaciones cardiovasculares en gestante con linfoma primario mediastinal de células B. Arch Peru Cardiol Cir Cardiovasc [nternet]. 27 de junio de 2022 [citado 9 de agosto de 2022];3(2). isponible en: https://apcyccv.org.pe/index.php/apccc/article/view/202
Sección
Reportes de casos
Licencia
Derechos de autor 2022 La revista es titular de la primera publicación, luego el autor dando crédito a la primera publicación.
Esta obra está bajo una licencia internacional Creative Commons Atribución 4.0.