Presentación atípica del patrón electrocardiográfico de Wellens asociado con lesión de bifurcación coronaria
Palabras clave:
Infarto de miocardio, Electrocardiografía, Reperfusión miocárdica
Resumen
Presentamos el caso de una paciente que ingresó a emergencia por angina inestable, con electrocardiograma inicial sin signos de isquemia aguda y evolución clínica favorable. Durante la hospitalización desarrolló el patrón electrocardiográfico de Wellens, señalado en la literatura como un hallazgo infrecuente, poco identificado y de pronóstico ominoso. Este patrón electrocardiográfico se detalla en derivadas precordiales, sugiriendo una lesión significativa de una arteria epicárdica principal; la paciente tuvo alteraciones electrocardiográficas similares en las derivadas laterales altas, en quien se confirmó el compromiso de bifurcación coronaria no descrita previamente en este escenario.
Descargas
La descarga de datos todavía no está disponible.
Citas
De Zwaan C, Bär FW, Wellens HJ. Characteristic electrocardiographic pattern indicating a critical stenosis high in left anterior descending coronary artery in patients admitted because of impending myocardial infarction. Am Heart J. 1982;103(4 Pt 2):730-36. doi:10.1016/0002-8703(82)90480-x.
Haines DE, Raabe DS, Gundel WD, Wackers FJ. Anatomic and prognostic significance of new T-wave inversion in unstable angina. Am J Cardiol. 1983;52(1):14-8. doi:10.1016/0002-9149(83)90061-9.
De Zwaan C, Bär FW, Janssen JH, Cheriex EC, Dassen WR, Brugada P, et al. Angiographic and clinical characteristics of patients with unstable angina showing an ECG pattern indicating critical narrowing of the proximal LAD coronary artery. Am Heart J. 1989;117(3):657-65. doi:10.1016/0002-8703(89)90742-4.
Migliore F, Zorzi A, Marra MP, Basso C, Corbetti F, De Lazzari M, et al. Myocardial edema underlies dynamic T-wave inversion (Wellens' ECG pattern) in patients with reversible left ventricular dysfunction. Heart Rhythm. 2011;8(10):1629-34. doi:10.1016/j.hrthm.2011.04.035.
Bayés de Luna A, Zareba W, Fiol M, Nikus K, Birnbaum Y, Baranowski R, et al. Negative T wave in ischemic heart disease: a consensus article. Ann Noninvasive. Electrocardiol Off J Int Soc Holter Noninvasive Electrocardiol Inc. 2014;19(5):426-41. doi:10.1111/anec.12193.
Luepker RV, Duval S, Jacobs DR, Smith LG, Berger AK. The effect of changing diagnostic algorithms on acute myocardial infarction rates. Ann Epidemiol. 2011;21(11):824-9. doi:10.1016/j.annepidem.2011.08.005.
Kobayashi A, Misumida N, Aoi S, Kanei Y. Prevalence and Clinical Implication of Wellens' Sign in Patients With Non-ST-Segment Elevation Myocardial Infarction. Cardiol Res. 2019;10(3):135-41. doi:10.14740/cr856.
Sianos G, Morel M-A, Kappetein AP, Morice MC, Colombo A, Dawkins K, et al. The SYNTAX Score: an angiographic tool grading the complexity of coronary artery disease. EuroIntervention J Eur Collab Work Group Interv Cardiol Eur Soc Cardiol. 2005;1(2):219-27. PMID: 19758907.
Akhtar P, Rizvi SNH, Tahir F, Saleem D, Mulla J, Saghir T. Angiocardiographic findings in patients with biphasic T-wave inversion in precordial leads. JPMA J Pak Med Assoc. 2012;62(6):548-51. PMID: 22755337.
Liu M, Han C, Ke J, Tang W, Tan G, Chen Z, et al. Wellenoid T-wave is an important indicator for severe coronary artery stenosis. Int J Cardiol. 2016;209:22-3. doi:10.1016/j.ijcard.2016.02.036.
Pride YB, Tung P, Mohanavelu S, Zorkun C, Wiviott S, Antman E, et al. Angiographic and clinical outcomes among patients with acute coronary syndromes presenting with isolated anterior ST-segment depression: a TRITON-TIMI 38 (Trial to Assess Improvement in Therapeutic Outcomes by Optimizing Platelet Inhibition With Prasugrel-Thrombolysis In Myocardial Infarction 38) substudy. JACC Cardiovasc Interv. 2010;3(8):806-11. doi:10.1016/j.jcin.2010.05.012.
Tandy TK, Bottomy DP, Lewis JG. Wellens' syndrome. Ann Emerg Med. 1999;33(3):347-51. doi:10.1016/s0196-0644(99)70373-2.
Banning AP, Lassen JF, Burzotta F, Lefévre T, Darremont O, Hildick-Smith D, et al. Percutaneous coronary intervention for obstructive bifurcation lesions: the 14th consensus document from the European Bifurcation Club. EuroIntervention J Eur Collab Work Group Interv Cardiol Eur Soc Cardiol. 2019;15(1):90-8. doi:10.4244/EIJ-D-19-00144.
Choi KH, Song YB, Jeong J-O, Park TK, Lee JM, Yang JH, et al. Treatment Strategy for STEMI With Bifurcation Culprit Lesion Undergoing Primary PCI: The COBIS II Registry. Rev Espanola Cardiol Engl Ed. 2018;71(10):811-9. doi:10.1016/j.rec.2018.01.002.
Chen S-L, Sheiban I, Xu B, Jepson N, Paiboon C, Zhang J, et al. Impact of the complexity of bifurcation lesions treated with drug-eluting stents: the DEFINITION study (Definitions and impact of complEx biFurcation lesIons on clinical outcomes after percutaNeous coronary IntervenTIOn using drug-eluting steNts). JACC Cardiovasc Interv. 2014;7(11):1266-76. doi:10.1016/j.jcin.2014.04.026.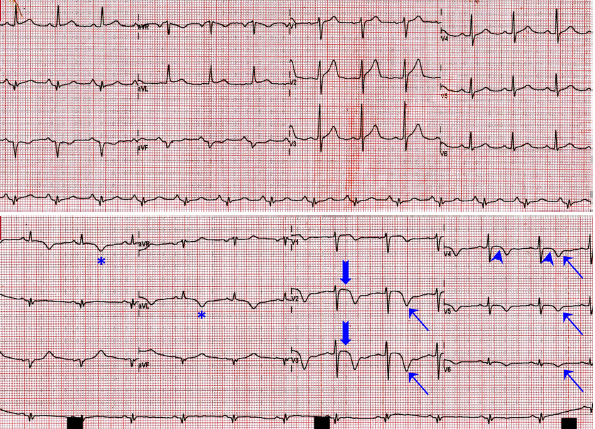 Cómo citar
1.
Alca-Clares R, Anchante-Hernández HA, Salinas-Arce J, Mejía Vargas Machuca L, Medina-Palomino FA. Presentación atípica del patrón electrocardiográfico de Wellens asociado con lesión de bifurcación coronaria. Arch Peru Cardiol Cir Cardiovasc [Internet]. 16 de septiembre de 2021 [citado 7 de diciembre de 2021];2(3):200-4. Disponible en: https://apcyccv.org.pe/index.php/apccc/article/view/145
Sección
Reportes de casos
Derechos de autor 2021 La revista es titular de la primera publicación, luego el autor dando crédito a la primera publicación.
Esta obra está bajo licencia internacional
Creative Commons Reconocimiento 4.0
.