Estenosis aórtica severa e hipercolesterolemia familiar
Palabras clave:
Hipercolesterolemia familiar, Xantoma, Estenosis de la válvula aórtica
Resumen
La hipercolesterolemia familiar homocigota (HFH) es una enfermedad infrecuente y potencialmente mortal que se puede manifestar como enfermedad coronaria o estenosis aórtica severa antes de los 20 años de edad. Presentamos el caso de un adolescente de sexo masculino que fue hospitalizado con diagnóstico clínico de HFH y estenosis aórtica severa. Se le realizó cirugía de reemplazo de válvula aórtica con prótesis mecánica y ampliación de anillo, y se implantaron dos baipases aortocoronarios debido a una complicación intraoperatoria. El paciente evolucionó favorablemente y fue dado de alta con terapia combinada con estatinas de alta intensidad y ezetimibe.
Descargas
La descarga de datos todavía no está disponible.
Citas
Sniderman AD, Tsimikas S, Fazio S. The severe hypercholesterolemia phenotype: clinical diagnosis, management, and emerging therapies. J Am Coll Cardiol. 2014;63(19):1935-47.
Wiegman A, Gidding SS, Watts GF, Chapman MJ, Ginsberg HN, Cuchel M, et al. Familial hypercholesterolaemia in children and adolescents: gaining decades of life by optimizing detection and treatment. Eur Heart J. 2015;36(36):2425-37.
Alonso R, Díaz-Díaz JL, Arrieta F, Fuentes-Jiménez F, de Andrés R, Saenz P, et al. Clinical and molecular characteristics of homozygous familial hypercholesterolemia patients: Insights from SAFEHEART registry. J Clin Lipidol. 2016;10(4):953-61.
Mata P, Alonso R, Ruiz A, Gonzalez-Juanatey JR, Badimón L, Díaz-Díaz JL, et al. Diagnóstico y tratamiento de la hipercolesterolemia familiar en España: documento de consenso. Aten Primaria. 2015;47(1):56-65.
Zaidi M, Premkumar G, Naqvi R, Khashkhusha A, Aslam Z, Ali A, et al. Aortic valve surgery: management and outcomes in the paediatric population. Eur J Pediatr. 2021;180(10):3129-39.
Niaz T, Fernandes SM, Sanders SP, Michelena H, Hagler DJ. Clinical history and management of bicuspid aortic valve in children and adolescents. Prog Cardiovasc Dis. 2020;63(4):425-33.
Hu P, Dharmayat KI, Stevens CAT, Sharabiani MTA, Jones RS, Watts GF, et al. Prevalence of Familial Hypercholesterolemia Among the General Population and Patients with Atherosclerotic Cardiovascular Disease: A Systematic Review and Meta-Analysis. Circulation. 2020;141(22):1742-59.
Beheshti SO, Madsen CM, Varbo A, Nordestgaard BG. Worldwide Prevalence of Familial Hypercholesterolemia: Meta-Analyses of 11 Million Subjects. J Am Coll Cardiol. 2020;75(20):2553-66.
Cuchel M, Bruckert E, Ginsberg HN, Raal FJ, Santos RD, Hegele RA, et al. Homozygous familial hypercholesterolaemia: new insights and guidance for clinicians to improve detection and clinical management. A position paper from the Consensus Panel on Familial Hypercholesterolaemia of the European Atherosclerosis Society. Eur Heart J. 2014;35(32):2146-57.
Ascaso JF, Mata P, Arbona C, Civeira F, Valdivielso P, Masana L. Hipercolesterolemia familiar homocigota: adaptación a España del documento de posición del grupo de consenso sobre hipercolesterolemia familiar de la Sociedad Europea de Arteriosclerosis. Documento de Consenso de la Sociedad Española de Arteriosclerosis (SEA) y la Fundación Hipercolesterolemia Familiar (FHF). Clin Investig Arterioscler. 2015;27(2):80-96.
Sturm AC, Knowles JW, Gidding SS, Ahmad ZS, Ahmed CD, Ballantyne CM, et al. Clinical Genetic Testing for Familial Hypercholesterolemia: JACC Scientific Expert Panel. J Am Coll Cardiol. 2018;72(6):662-80.
Soutar AK, Naoumova RP. Mechanisms of Disease: genetic causes of familial hypercholesterolemia. Nat Rev Cardiol. 2007;4(4):214-25.
Cegla J, Neely RDG, France M, Ferns G, Byrne CD, Halcox J, et al. HEART UK consensus statement on Lipoprotein(a): A call to action. Atherosclerosis. 2019;291:62-70.
Raal FJ, Hovingh GK, Catapano AL. Familial hypercholesterolemia treatments: Guidelines and new therapies. Atherosclerosis. 2018;277:483-92.
Sato H, Yoshikai M, Ikeda K, Mukae Y. Surgical treatment of valvular and supravalvular aortic stenosis in homozygous familial hypercholesterolemia. Gen Thorac Cardiovasc Surg. 2016;64(2):98-100.
Saito S, Usui A, Akita T, Ueda Y. Surgery for calcific aortic root stenosis in homozygous familial hypercholesterolemia. European Journal of Cardio-Thoracic Surgery. 2006;29(1):114-6.
Nemati MH. Aortic stenosis five years after coronary artery bypass grafting in a young patient with homozygous familial hypercholesterolemia. J Heart Valve Dis. 2009;18(1):125-7.
Fahed AC, Shibbani K, Andary RR, Arabi MT, Habib RH, Nguyen DD, et al. Premature Valvular Heart Disease in Homozygous Familial Hypercholesterolemia. Cholesterol. 2017;2017:e3685265.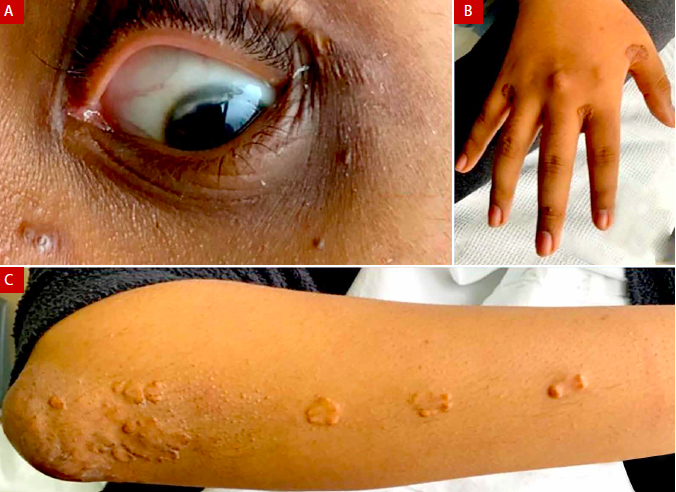 Cómo citar
1.
Mallma Gómez M, Condori Ccallo J, Miranda Noé D. Estenosis aórtica severa e hipercolesterolemia familiar. Arch Peru Cardiol Cir Cardiovasc [Internet]. 27 de diciembre de 2021 [citado 17 de enero de 2022];2(4):268-73. Disponible en: https://apcyccv.org.pe/index.php/apccc/article/view/166
Sección
Reportes de casos
Derechos de autor 2021 La revista es titular de la primera publicación, luego el autor dando crédito a la primera publicación.
Esta obra está bajo licencia internacional
Creative Commons Reconocimiento 4.0
.